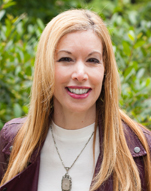 Lisa Bograd, M.A., M.F.T. (Lic. No 39608) has been working in the field of counseling and psychotherapy for close to 15 years. She graduated from the California Institute of Integral Studies in 1998 with a Masters Degree in Counseling Psychology and got her license as a Marriage and Family Therapist in 2002. Lisa has extensive training in the field of trauma, eating disorders, and addiction treatment gleaned from her clinical work at a variety of Bay Area agencies and training programs. Here are some highlights of these experiences:

Conducted play-based therapy with low-income children and teens in San Mateo County Public Schools, many of whom were victims of trauma, and worked with their families to provide support services, psycho-education and intervention efforts.
Facilitated Multiple Offender Groups for those with multiple drinking and driving offenses; provided individual and family treatment for people with substance abuse problems; and conducted drug and alcohol assessments for court mandated clients.
Worked on the Sexual Abuse Treatment Team for Burlingame Family and Children's Services where she conducted assessments and play based therapy with children who were victims of sexual abuse, co-facilitated a group for the Non Offending parents of children who were sexually abused, and conducted a group for boys who were victims of sexual abuse.
Participated in a two year training program for the treatment of eating disorders at The Community Institute for Psychotherapy (CIP) and in this capacity helped co-facilitate prevention efforts in the schools for girls at risk of eating disorders and provided psychotherapy to people with eating disorders and co-occuring addictions.
Worked in various Drug and Alcohol Residential Treatment Centers where she provided individual, couple, and family therapy and case management, and facilitated Multi Family Groups and Relapse Prevention Groups.
Worked at Casa Serena, an Intensive Outpatient Eating Disorder Program in Concord, and in this capacity provided individual and family therapy, conducted Body Image, Multi-Family, and Process groups
Facilitated Psycho-Education groups for women with eating disorders through the California Pacific Medical Center with a focus on improving body image, self care and self expression.
In addition to her vast clinical experiences, Lisa brings to her private practice work a tremendous commitment to professional growth and enhancement. She completed a three year training program at the Institute for Contemporary Psychoanalysis (ICP) and continues to be very involved in the psychoanalytic community. Lisa is also an adjunct supervisor at the Association of Professionals Treating Eating Disorders in San Francisco, an outpatient clinic and training site for the treatment of eating disorders.
She is a member of many professional associations, including:
The California Association of Marriage and Family Therapists (CAMFT))
San Francisco CAMFT

East Bay CAMFT

The Association of Professionals Treating Eating Disorders (APTED)

The Institute for Contemporary Psychoanalysis (ICP)

The National Association of Anorexia Nervosa and Related Disorders (ANAD)
Lisa enjoys training other professionals and educating the public about eating disorders, addiction, and trauma, her areas of specialization. She offers supervision, consultation, professional trainings, and workshops, and is available for speaking engagements.